Message from the President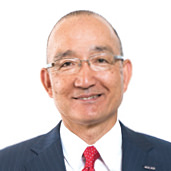 Evolving as a global corporate group
Moving into global markets, taking on new challenges
The Chori Group has established a strong position as a trading company specializing in textiles, chemicals and machinery.
We have also built a firm operating base by steadily implementing our Yakushin medium-term management plans since 2004.
Under our current plan, "Yakushin 2016", we are aiming to become a global corporate group based on outstanding capabilities and expertise by implementing three basic strategies: "strengthening the consolidated management structure," "enhancing the personnel structure," and "pursuing new business development and M&A." By pushing ahead with these three basic strategies, we are enhancing Group capabilities to adapt to a range of business environments.
The key word in this process is globalization. It is vital that we establish new businesses overseas to expand our operational reach. We are taking a more global management approach, building a firmer operating base overseas. Personnel training is a key element in achieving globalization. We run in-house training programs and actively send our younger employees to overseas sites as part of our focus on cultivating a global workforce. We are also actively utilizing national staff in overseas markets and promoting them to management positions to encourage localization. We are aiming to become a truly global company by combining our strengths in Japan and overseas to drive business expansion tailored to each region.
Our business environment is changing at a dizzying pace.
We are working to adapt to this change and move forward with speed. The whole Chori Group is aiming to achieve the robust advancement of "Yakushin 2016" by preempting developments in our markets, becoming more global and increasing our expertise. Going forward, we will continue to strengthen the Chori brand, under our corporate slogan, "Making your dreams come true."
Kazuo Sakihama
President &
Chief Executive Officer
& Chief Operating Officer