Message from the President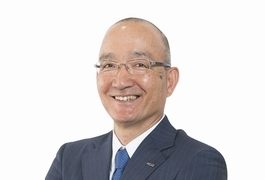 Striving to be a corporate group that
continues to evolve and change on
a global scale

A Specialist Trading Company with Over150 Years of History
The Chori Group is a trading company specializing in the textiles, chemicals and machinery businesses. Our history spans more than 150 years, during which time Chori has built a global network mainly in China and ASEAN countries centered on these three business domains. Today, we are taking advantage of this network, our accumulated expertise and outstanding capabilities to map out further business expansion. By promoting the Chori Innovation Plan 2019, our medium-term management plan running from fiscal 2017 to fiscal 2019 that we announced in April 2017, we strive to become a corporate group that continues to evolve and change on a global scale, built on outstanding capabilities and expertise.
Medium-term Management Plan:
Chori Innovation Plan 2019
-Achieving Performance Plan Targets
Ahead of Schedule
Under the Chori Innovation Plan 2019, we pursue four basic strategies: (1) consolidated management, (2) new development, business investment and M&A, (3) corporate governance and (4) human resources.We are advancing a shift toward a business model based on business investment in both Fibers, Textiles and Garments Business and Chemical & Machinery Business, promoting expansion in our business scope and a switch in our earnings structure. Furthermore, by pushing forward with M&A activities, we will take steps to improve as a consolidated corporate group. In fiscal 2017, the first year of Chori Innovation Plan 2019, our net sales recovered to rise above \300 billion, reaching \311.7 billion, and steadily increased to achieve \356.5 billion in fiscal 2018. In terms of earnings, our ordinary income was \8.7 billion in fiscal 2018, reporting a record high income for three consecutive years and achieving the numerical targets for the last year of the Chori Innovation Plan 2019 one year ahead of schedule. These outcomes represent the result of having steadily pursued various measures. With a path to the net sales of \400.0 billion and ordinary income of \13.0 billion as set out in the vision for fiscal 2022 coming in sight, we consider that a new stage of the Chori Group has begun.
Making Rapid Global Progress in Both
Textile and Chemical & Machinery Operations
In fiscal 2018, we continued to promote our global expansion strategy through capital participation in P.T. MATSUOKA INDUSTRIES INDONESIA and other initiatives.
In Fibers, Textiles and Garments Business, we have been developing an integrated business encompassing everything from raw materials to finished products in order to strengthen our collective strength. Through organic collaboration among our operations in Japan, China, Taiwan, Vietnam,Indonesia, etc., we have established a framework to take advantage of Asia's economic growth. We will continue to aim to establish a global framework of six regions (Japan, China, Asia, US, South America, Europe) and develop a global supply chain.
In Chemicals Business, business expansion advanced as we widen our business base in Japan through M&A and leverage our international network, and as a result, we had favorable developments in fields related to inorganic fine materials and electronics materials as well as in businesses in China.
In Machinery Business, business is steadily increasing as our operations in new markets including Africa, ASEAN, EU, and other regions have started, on top of the existing operations in vehicle sales to the core market, Central and South America.
In terms of new development, business investment and M&A, the pillar of our growth strategy, we are pursuing a shift to a business model based on business investment and promoting expansion in business scope and a switch in our earnings structure. Both Asada U Corporation and Kozakura Shokai Co., Ltd., which became our consolidated subsidiaries through M&A in fiscal 2017, have been contributing favorably to our improved performance since the first year of consolidation.
Our Group has a total of 35 overseas locations as of the end of March 2019, out of which 70% are located in the Asian region, with China serving as its center. We have a long-standing relationship with China; we were designated as the first trading company engaged in a Japanese-Chinese relationship in 1961 before the normalization of relations between the two countries in 1972. Since then, we have been conducting business activities in China for almost 60 years and our businesses in China are one of our strengths. In October 2018, when Japanese Prime Minister Shinzo Abe formally visited China as the first Japanese prime minister to do so in seven years and attended the First Session of the China-Japan Third-Party Market Cooperation held there, we participated as a member of the private company group and made a new mark in the year of celebrating our 70-year anniversary.

Chori Group's Sustainable Growth
The business environment surrounding the Chori Group is rapidly changing and our global network has been continuing to expand. During this process,in order to consider changes as opportunities and meet such challenges with a sense of speed,ensuring corporate governance and strengthening of human resources are essential. The Chori Group considers people as its most valuable management resources and in its overseas business will actively strengthen and enhance compliance, promote health and productivity management, and work on other initiatives to build a foundation for further growth.
By taking advantage of having achieved numerical targets in Chori Innovation Plan 2019 one year ahead of schedule, we will position fiscal 2019 as the year to secure a foothold for management with an eye toward the next Medium-term Management Plan and improve our own strengths. Going forward,guided by our corporate slogan of "Making your dreams come true," we will meet the expectations of our stakeholders and continue to pursue sustainable growth and development.
Kazuo Sakihama
President &
Chief Executive Officer
& Chief Operating Officer