Corporate Governance
Strengthening Corporate Governance
In June 2016, Chori transitioned to a "Company with Audit Committee with Supervisory Functions" governance structure. To this end, we established an Audit & Supervisory Committee in which the majority of the members are outside directors.
We will further strengthen the supervisory function of the Board of Directors and transparency of the management to enhance our corporate governance and internal control in order to improve the corporate value through Directors who are Audit & Supervisory Committee Members exercising their voting rights in the Board of Directors.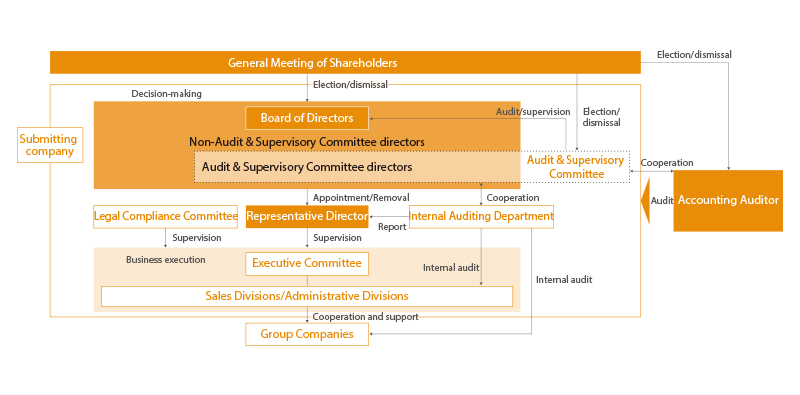 Compliance-based Management
1.Compliance system
We have established a Legal Compliance Committee, chaired by the President. The Committee deliberates important compliance issues and reports to the Executive Committee and the Board of Directors as necessary. We are also working to strengthen compliance management by holding seminars on the internal compliance program, stressing legal compliance and sound corporate behavior. Meanwhile, to ensure that sensitive information is managed properly, we have introduced regulations governing protection of personal information.
2.Strengthening the internal control system
We have set up an Internal Auditing Department to strengthen the auditing of Chori business operations.
3.Expanding IR activities
Since communication with stakeholders is of prime importance, we are committed to proactively providing appropriate corporate information.
Environmentally Conscious Business Operations
We are continuously improving our environmental preservation activities, in accordance with the ISO 14001 international standard for environmental management systems. We have obtained ISO 14001 certification at both our Tokyo and Osaka headquarters.
Enhancing Risk Management
Recognizing the range of potential risks to the Chori Group's management, we are working to prevent them from materializing to the extent possible, while preparing for appropriate action in the event risk does occur. We are also working to improve the quality of our assets.